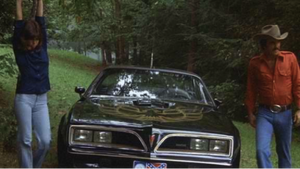 Trans-Am is a model of automobile from Pontiac used in the 1977 film, Smokey and the Bandit, and its sequels, Smokey and the Bandit II and Smokey and the Bandit, Part 3.
Bandit buys the 1977 Trans-Am to run blocker, diverting police away from Snowman in the Kenworth. It drives off-road, over a pond, and even jumps over a river, and never even gets scratched.
After they win the bet, Bandit gets drunk and trades it for a case of beer. Frog buys him a new 1980 Trans-Am when Big and Little Enos make him another bet.
Snowman gets behind the wheel of a 1983 Trans-Am when the Burdettes make a bet with Smokey, using it as they battle back and forth to transport a large stuffed fish.