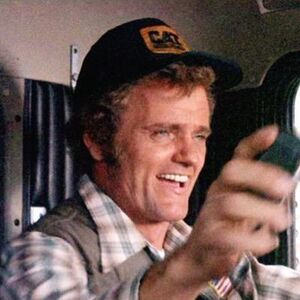 Snowman is a character in the 1977 feature film Smokey and the Bandit and its sequels, Smokey and the Bandit II and Smokey and the Bandit, Part 3. He was portrayed by Jerry Reed in all three films.
About Snowman
"Snowman" is the CB handle of Cledus Snow, a Georgia truck driver. He is married to Waynette (played by Linda McClure). His sometimes partner is Bandit, Bo Darville.
When Big Enos Burdette and his son Little Enos make a bet with Bandit, he talks Snowman into helping him win. Snowman drives the truck to Texarkana to pick up the beer while Bandit runs blocker in the Trans-Am. Snowman brings his dog Fred along for the ride.