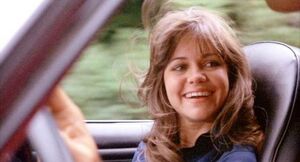 Frog (aka Carrie) is a character in the 1977 feature film Smokey and the Bandit and its sequel Smokey and the Bandit II.
She was played by Sally Field.
About Frog
Carrie is a dancer and runaway bride. Bandit picked her up on his way back to Atlanta as she was hitchhiking, still in her wedding dress, when her car broke down. He originally planned to drop her off at a "choke-and-puke" so she could catch a bus home, but they developed an attraction for each other. Meanwhile, her jilted groom Junior and his father, Sheriff Buford T. Justice, follow her, but Buford soon becomes more obsessed with catching Bandit.